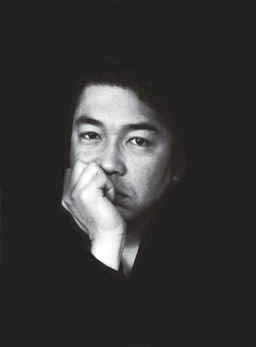 From Tokyo
Graduated from Bunka Fashion College's Fashion Design Department and became independent through Issei Miyake Design Studio.
After working as a fashion designer, he turned to a photographer in 1997.
Established "Zentsu Eguchi Creative Studio."
As life work, he presented "Water World," which expresses the 'water world' with a unique sensibility, and "Flower Magic," which expresses the fantastic and bewitching 'flower world.'
Furthermore, the monochrome world view of 'Fine Art' to be said to be the origin of the photographer Zentsu Eguchi overwhelms the viewer.
Active in a wide range of fields such as corporate posters, calendars and commercials as his field work.
He presides over "AZUR" and focuses his efforts on developing amateurs while developing his own workshop.De Tokyo
Diplômé du département de design de mode du Bunka Fashion College, il est devenu indépendant via le studio de design d'Issei Miyake.
Après avoir travaillé comme créateur de mode, il s'est tourné vers la photographie en 1997.
Création de "Zentsu Eguchi Creative Studio".
Comme oeuvres majeures, il a présenté "Water World", qui exprime le "monde de l'eau" avec une sensibilité unique, et "Flower Magic", qui représente le "monde de la fleur" fantastique et envoûtant.
En outre, la vision monochrome du monde des «beaux-arts» doit être considérée comme le point de départ de l'art du photographe Eguchi Zentsu qui submerge le spectateur.
Actif dans un large éventail de domaines tels que les affiches d'entreprise, les calendriers et les publicités. Il préside "AZUR" et concentre ses efforts sur le développement des amateurs tout en développant son propre atelier.
東京都出身
文化服装学院ファションデザイン科卒業、イッセイミヤケデザインスタジオを経て独立。ファッションデザイナーとして活躍後、1997年写真家へ転身。「Zentsu Eguchi Creative Studio」を設立。
ライフワークとして'水の世界'を独特の感性で表現した「Water World」や幻想的で妖艶な'花の世界'を表現した「Flower Magic」など発表。
さらに写真家江口善通の原点と言うべき'ファインアート'のモノクロームによる世界観は見る人を圧倒する。
自身のフィールドワークとして企業ポスター、カレンダー、CM映像など幅広い分野にて活躍中。その傍「AZUR」を主宰し、独自のワークショップを展開しながらアマチュアの育成にも力を注ぐ。


1998 Photo Card "THE SONG OF URABANDAI" released
2001 Photo Exhibition "THE SILENT SEASON '01 SELECTION"
2001 Photo Exhibition "THE SHADOW OF BLACK" Fuji Photo Salon Ginza, nationwide tour
2002 Photo Exhibition "THE SILENT SEASON BEST" Fuji Photo Gallery Kyoto / Fukuoka
2003 Photo Exhibition "feel" Ginza Canon Salon Photo Gallery
Photo Book "feel" released
2004 Photo Exhibition "feel best" California San Jose
2005 Photo Exhibition "feel best CA" San Francisco (California Governor Invited Japan Representative)
2014 Photo Exhibition "GR_mono_" Ricoh Imaging Square Shinjuku
Photo Book "GR_mono_" released
2019 Photo Exhibition "善-zen" Paris in)(between
Photo Book "善 Zentsu Eguchi「善-Zen」" released
2020-2021 Photo Exhibition 「Zen〜Paris-Tokyo-Kyoto〜」Ginza Six Leica Store